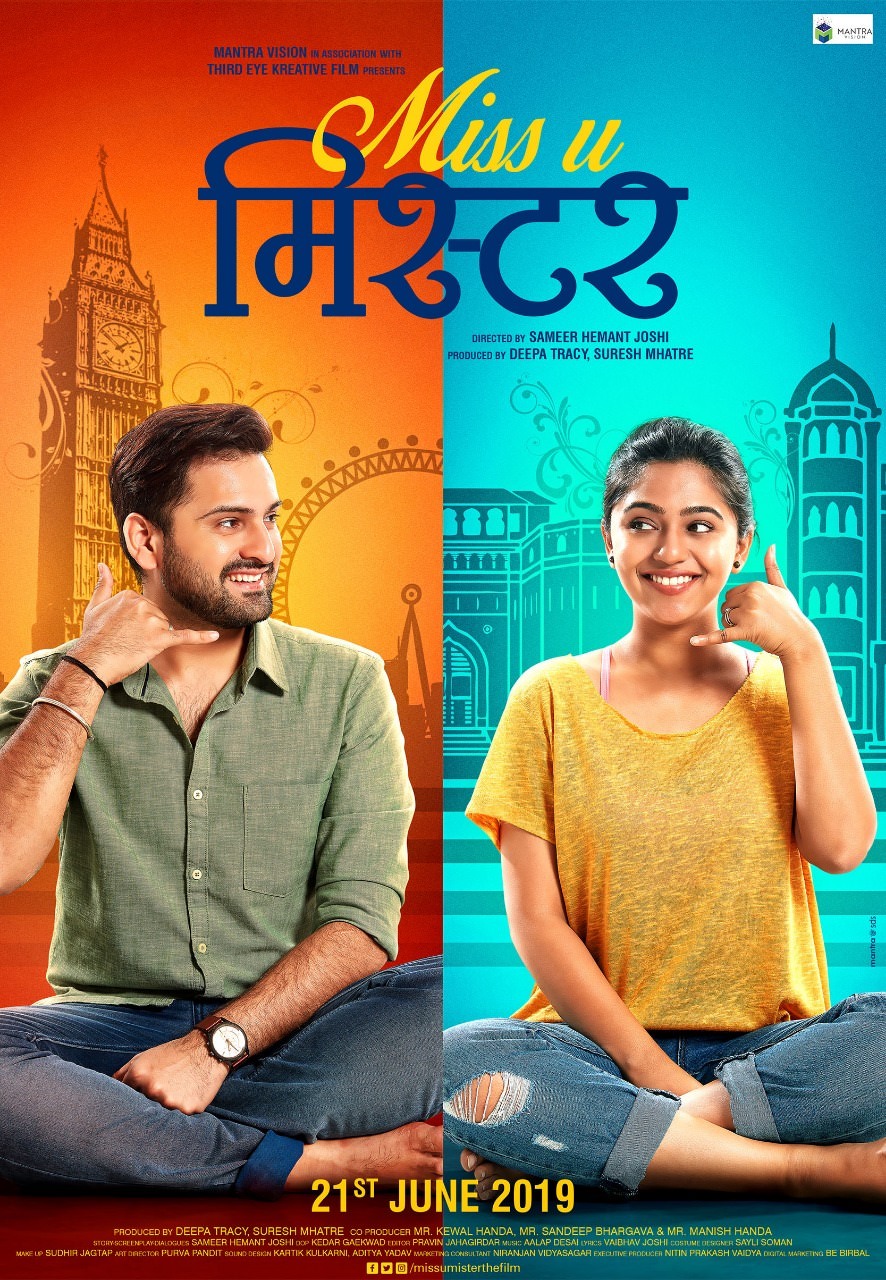 Movie : Miss U Mister (2019) | मिस यू मिस्टर
Producer : Deepa Tracy, Suresh Mhatre
Director : Sameer Hemant Joshi
Studio : Mantra Vision In Association With Third Eye Kreative Films
Star Cast :

Siddharth Chandekar
Mrunmayee Deshpande

Story : Sameer Hemant Joshi
Screenplay and Dialogues : Sameer Hemant Joshi
Lyrics : Vaibhav Joshi
Sound Design : Kartik Kulkarni, Aditya Yadav.
Music : Aalap Desai
Cinematography (DOP) : Kedar Gaekwad
Editor : Pravin Jahagirdar
Art Director : Purva Pandit
Costume : Sayali Soman
Make-up : Sudhir Jagtap
Presenter : NA
Choreography : NA
Co-Producer : Keval Handa, Sandeep Bhargava, Manish Handa
Visual Promotions : NA
Digital Promotions : NA
DI Colorist : NA
Genre : Drama
Release Date : 21 June 2019
Synopsis :
Newlyweds Varun and Kaveri are forced to live apart for 18 months after their financial circumstances lead Varun to take up a job in London. The prolonged parting and the limitations of a long-distance relationship put a strain on their marriage, and matters come to a head when Varun reveals he has taken another 6 months extension in London.
Will the young couple be able to solve the crisis in their personal and professional lives before it`s too late?
Movie Name Marathi Movie Poster/Photos :
---
Movie Name Marathi Movie Trailer :
The post Miss U Mister (2019) – Marathi Movie appeared first
---
The post Miss U Mister (2019) – Marathi Movie appeared first