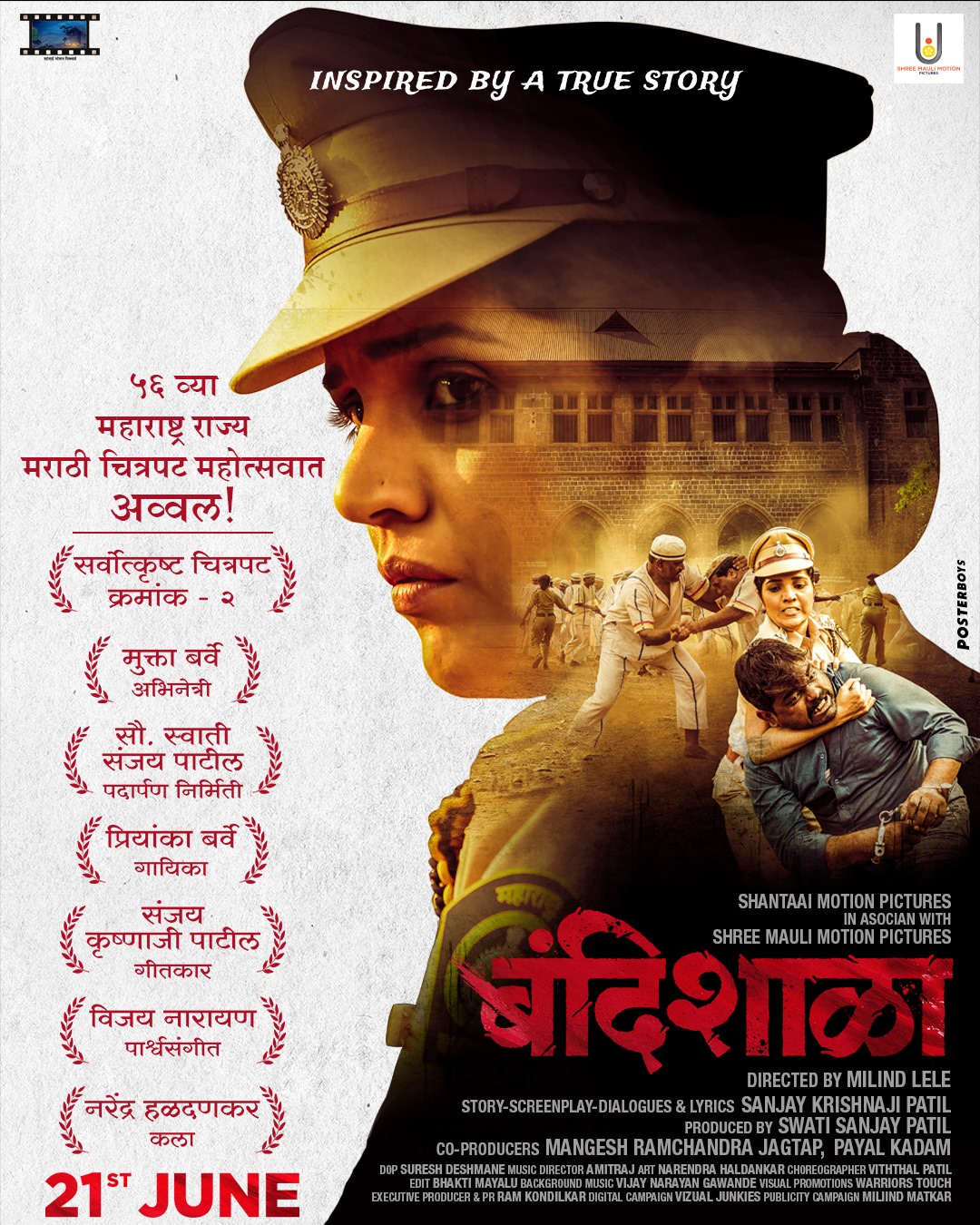 Movie : Bandhishala (2019) | बंदिशाळा
Producer : Swati Sanjay Patil
Director : Milind Lele
Studio : Shantaai Motion Pictures in association with shree mauli motion pictures
Star Cast :

Mukta Barve
Sharad Ponkshe
Umesh Jagtap
Anand Alkunte
Ananda Karekar
Pankaj Chemburkar
Krutika Gaikwad
Pravin Tarade
Madhav Abhyankar
Shivraj Wavlekar
Vikram Gaikwad
Asha Shelar
Hemangi Kavi
Savita Prabhune
Ashwini Giri
Umesh Jagtap
Varsha Ghatpande
Anil Nagarkar

Story : Sanjay Patil
Screenplay and Dialogues : Sanjay Patil
Lyrics : Sanjay Patil
Sound : NA
Music : AmitRaj
Background Music : NA
Cinematography (DOP) : NA
Editor : Bhakti Mayalu
Art Director : Narendra Haldankar
Costume : NA
Make-up : NA
Presenter : NA
Choreography : Vithhal Patil
Co-Producer : Mangesh Ramchandra Jagtap , Payal Kadam
Visual Promotions : NA
Digital Promotions : NA
DI Colorist : NA
Genre : Drama
Release Date : 21 June 2019
Synopsis :
Madhavi Sawant is a resilient police officer who tries to root out the corrupt administration in the prisons. However, she makes powerful enemies who plot a gangrape against her. The harrowing incident leaves a strong Madhavi, broken. The film attempts to bring out the discrimination and crimes against women to the forefront through Madhavi`s story.
Movie Name Marathi Movie Poster/Photos :
---
Movie Name Marathi Movie Trailer :
---
The post Bandhishala (2019) – Marathi Movie appeared first