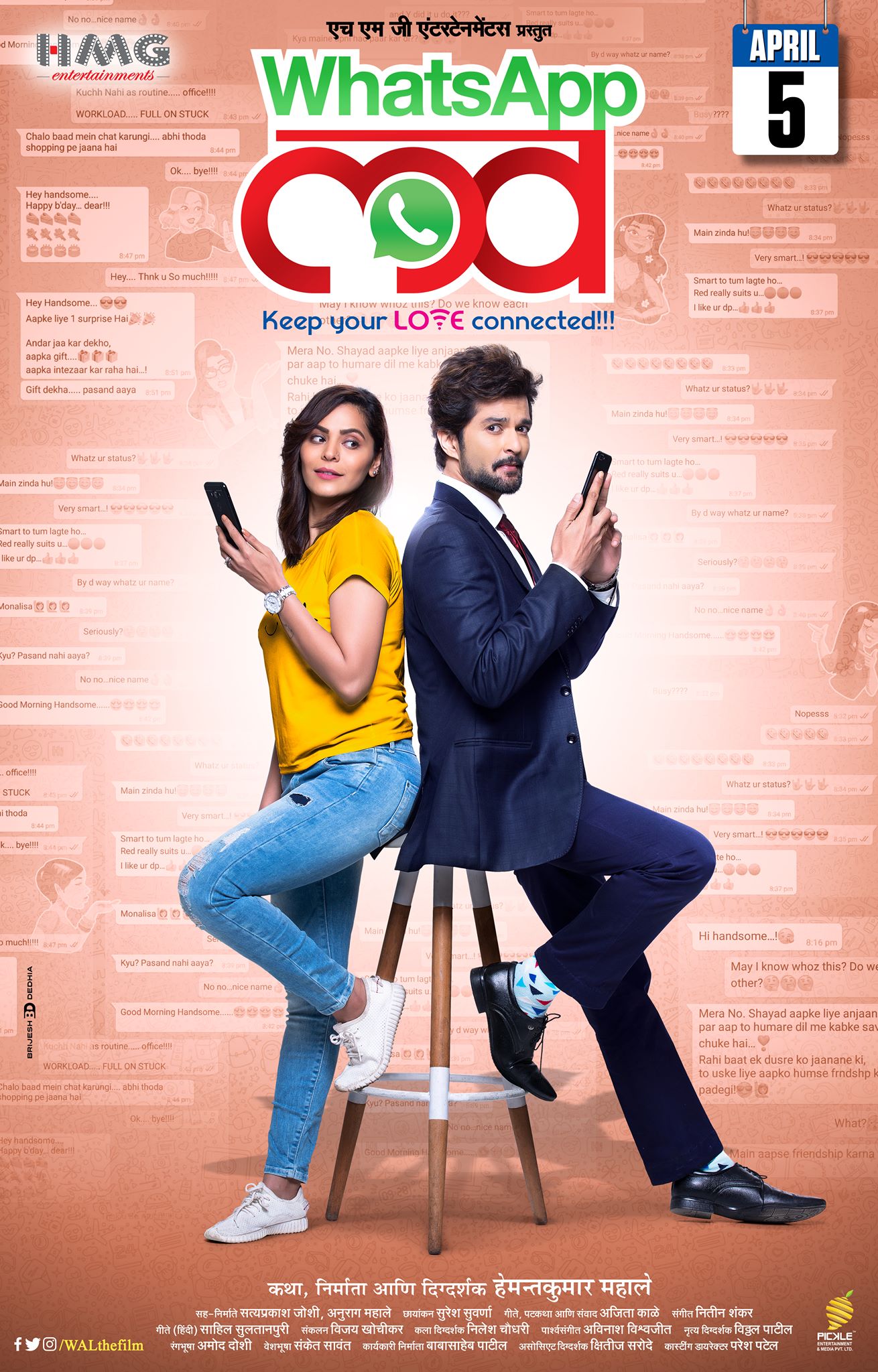 Movie : Whatsapp Love (2019) | व्हाटसअप लव्ह
Producer : Hemantkumar Mahale
Director : Hemantkumar Mahale
Studio : Origin Pictures
Star Cast :

Raqesh Bapat as Aditya Deshmukh
Anuja Sathe as Anagha Deshmukh
Pallavi Shetty as Rucha
Sareh Far as Monali

Story : Hemantkumar Mahale
Screenplay and Dialogues : Ajita Kale
Lyrics: Ajita Kale
Music : Nitin Shankar
Singers : Shabab Shabari, Shreya Ghoshal, Asha Bhosale, Javed Ali, Payal Dev.
Sound Design : Jayant
Background Score : Avinash Vishwajeet
Cinematography (DOP) : Suresh Suvarna
Editor : Vijay Khochikar
Executive Producer : Babasaheb Patil
Associate Director : Kshitij Sarode
Choreographer : Vitthal Patil
Co-Producer : Satyaprakash Joshi & Anuraag Mahale
Genre : Drama
Release Date : 5th April 2019
Synopsis :
It is a beautiful story of a married Aaditya. He is happily living with wife Anagha from past 2 years. Now Aaditya has bit engaged in excessive responsibilities and career. Where Anagha's whole life running behind Aaditya. Everything is going smoothly as decided by the couple. Suddenly, one day Aaditya gets a flirtious message on Whatsapp from anonymous number. Initially he ignored, then he tried to get information about the sender but he fails. Messages keep coming on, and slowly slowly Aaditya started attracting towards those messages. One day, Aaditya make a call and a beautiful voice from another side attracts him more than before. He gets completely involved in that girl. They stay connected through messages and calls. Finally, one day both of them decides to meet. What's happens then is all about the wonderful climax.
Whatsapp Love Marathi Movie Poster/Photos :
---
The post Whatsapp Love (2019) – Marathi Movie appeared first